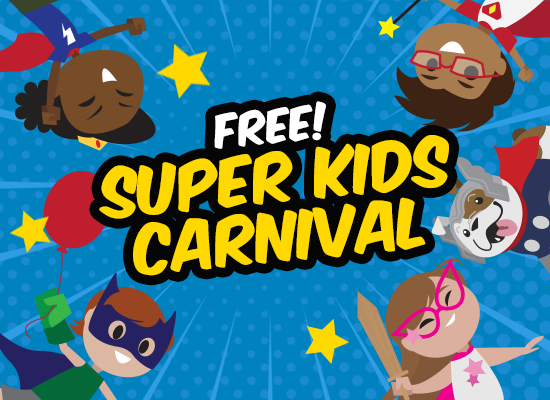 Honor the Month of the Military Child by attending the Super Kids Carnival.
Guests can expect complimentary games, rides, music, and more.
While there, families will get a chance to meet and greet with their favorite superheroes!
FAQs
Is this a Drive-Thru Event?
It is not! Patrons are invited to enjoy all the fun in the event venue.
Is registration required?
Registration is not required to attend the event.
Who may attend this event?
This event is open to active duty members and their families.
What ages is the event appropriate for?
The Super Kids Carnival is appropriate for all ages. However, games and activities are geared toward children.
What kinds of activities will be at this event?
There will be carnival games, face painting, superheroes, and more!
Will there be food or beverages available?
There will be a complimentary "Super Kids Fuel" pack available for children. The packs will consist of a variety of snacks.
* Limited quantities available.
** Substitutions will not be available, so please plan ahead if your child has any dietary restrictions.
Will there be food or beverages available for purchase?
The Grill Food Truck will be on-site with food available for purchase.
What am I allowed to bring to the event?
You can bring outside food and drinks and everything you'd need for a small family picnic (coolers, chairs, blanket, wagon, etc.) If you are not sure about something, feel free to send us a message on our Facebook, @mccsCP!
When do I show up?
The Super Kids Carnival starts at 4pm and ends at 8pm, so we look forward to seeing you then!
Where will the restrooms be?
There will be restrooms located at the north end of the Parade Deck.
*Details are subject to change on the day of the event.